Over December, I set myself these goals, both reading and just general life. January is going to be less busy in terms of challenges, but there's still some I want to do!
My first was Clear A Shelf, and I aimed for a very low 5. I later decided to re-read a whole bunch of stuff, so I can pack them in a box and hide them in my wardrobe, so I ended up
reading 10 books that I own! Highlights include the first 3 of the Tomorrow When the War Began series, which I hope to continue this year, and Forbidden Love, a Christmas gift which I plan to review soon! I also decided to count any books from series I'd already started, and I read 3 of those. 13 books total for this challenge is AMAZING, way better than I was expecting!
My second challenge was diversity bingo, where I challenged myself to read 5 diverse books to complete a row. Originally, I planned to do the top horizontal row, but I changed my mind later on. From top to bottom I read Symptoms of Being Human by Jeff Garvin, Forbidden Love by Norma Khouri, Winter by Marissa Meyer, Aristotle and Dante Discover the Secrets of the Universe, and Huntress by Malinda Lo. That little extra cross was accidentally me counting Aristotle and Dante twice, but hey ho. I'm really impressed with how well I did for this one too!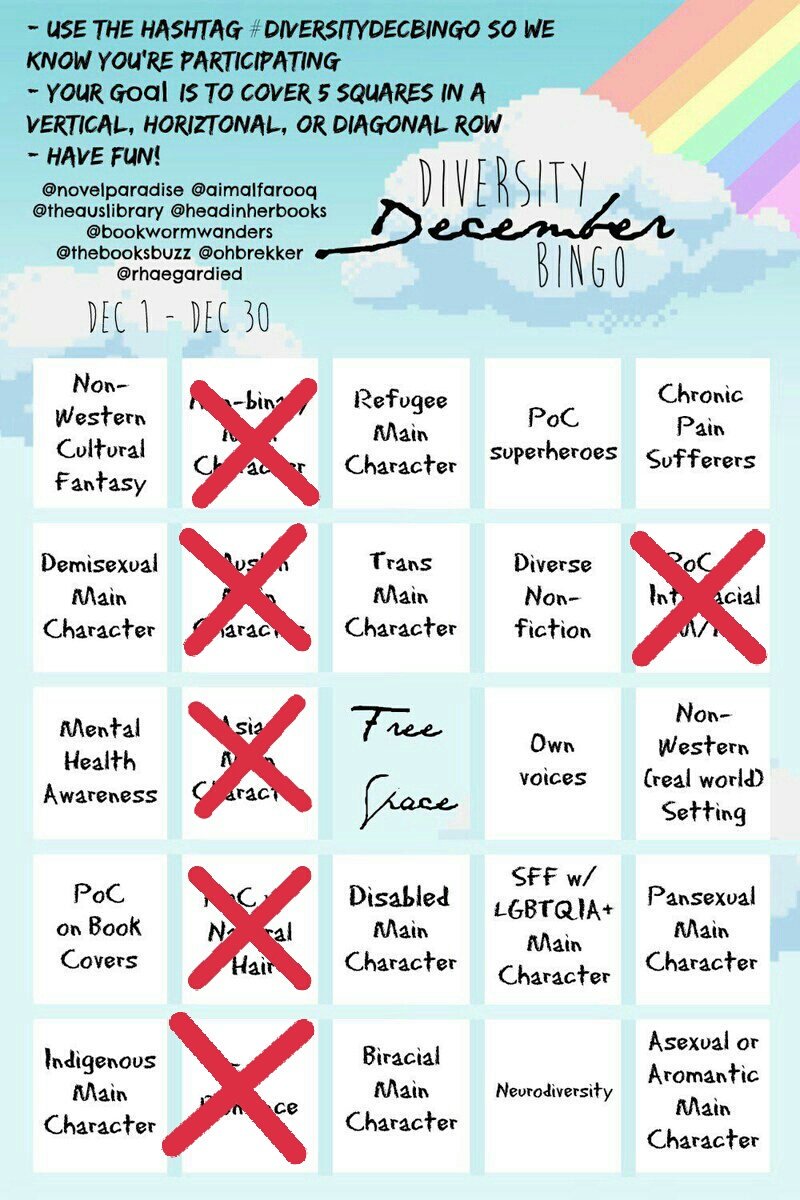 For my Goodreads challenges, I got 39 points for my finishing the series challenge, and for the mini readathons I got 3 points for the first, 2 points for the second, 3 points for the third, and 3 points for the fourth. We'll have to wait and see how well I did compared to other people, and if I get any prizes from them! But considering how many challenges I signed up for, I'm really happy with how I did. 
Outside of reading, I wrote this post where I challenged myself to do a whole bunch of things through December, January, and February. I haven't touched my NaNo project, but we'll get to that. I also wanted to take a photo every day through December, and while I did fail that, I did pretty well. Lazy days at home don't give many photo opportunities, but other days did, so I may do a post where I show some of the photos I took. 
So, December went really well! I completed my goals for almost all of them (I wanted to do better in the mini readathons), and did better in some goals! YAY ME!
---
I'm still off school in January, but have a friend from Germany coming to stay with me (!!!!), so I'm going to be a lot busier. This is what I've signed up for, but I'm only doing goals, not any tbrs, so I don't feel super stressed by getting everything read. 
My main challenge for January is the Hogwarts Cup writing challenge, where we earn points for our houses based on how many words we write, or how many hours of editing we do. I got about halfway through my novel back in November, and I would really love to get it finished! Like I said early, I didn't even touch it in December, so this is the perfect chance for me to get some proper writing done. 
There are a couple of Goodreads challenges I've signed up for, yet again. One based around reading anything new, to you or to the world, and a playlist challenge, reading books based off different songs. I don't really have specific goals for either of those, just getting as many points as possible!
And I want to focus on my yearly challenges too, because those are often the ones that get left behind until I frantically try and finish them in December. I just know that I'll forget them during the year! I've signed up for two, both based around reading more diversely. The first is another one of those bingo cards, and I don't have anything planned for it yet. The hashtag is Diverse Bingo 2017 if anyone wants to check it out!
The second is one that can go along with this, Read Diverse 2017. It's all about reading and reviewing diverse books, and I'm super excited! It'll mean that I actually get some reviews up too… It's pretty low pressure, which is perfect for me this year. 
Like I said, I don't want to plan heaps for January, since I don't know how busy I'll be through the month. We'll see what happens though!
How did your December go? What are your goals for January? Are you doing any fun challenges that I'll inevitably want to sign up for?