With this stunning debut novel, New York Times bestselling author Lauren Oliver emerged as one of today's foremost authors of young adult fiction. Like Jay Asher's Thirteen Reasons Why and Gayle Forman's If I Stay, Before I Fall raises thought-provoking questions about love, death, and how one person's life can affect so many others.
For popular high school senior Samantha Kingston, February 12—"Cupid Day"—should be one big party, a day of valentines and roses and the privileges that come with being at the top of the social pyramid. And it is…until she dies in a terrible accident that night.
However, she still wakes up the next morning. In fact, Sam lives the last day of her life seven times, until she realizes that by making even the slightest changes, she may hold more power than she ever imagined.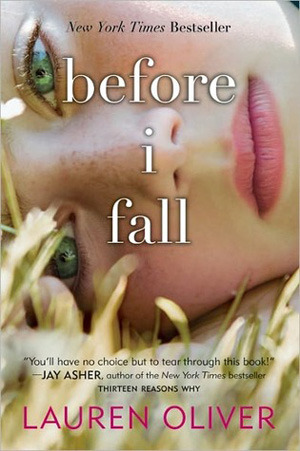 Wow. I just… Loved this. So much. It was such a great concept; girl dies but gets to relive and 'fix' her last day. Her writing was amazing. I've never read anything by her before, but now I need to read more!
I liked the character development, between horrible, too-cool-for- everyone Sam to the Sam that talked to Kent and Anna and Juliet. I liked how she actually realised what an awful person she was. She took on everyone's problems for herself, and just wanted to fix everything, like Juliet and her friends. Even the way we saw Lindsay was different, after we found out what made her so awful, even though technically she hadn't changed at all. I loved Juliet's story too, even though it nearly made me cry in the middle of class. She was just so sweet, and I felt so sorry for her. It had me stressed right until the very end. It made me hate Lindsay and co a little too, which I assume was the point.
Sam was right, about how we're all really just as bad as her. I found her so relatable, even though I thought I was nice, not a popular like her.
My only problem was the ending. I felt like it left too much unknown. We never knew why she was reliving that last day, or how other people's lives were resolved. Plus what she did to Kent was pure selfishness. Yes, it was good for both of them at the time, but not for him the day after. I was so happy that it was so romantic, and so was he, but of course it didn't end all happily-ever-after. He deserved better.
So overall, an absolutely lovely book. I would definitely recommend it!